Discussion Starter
•
#1
•
Hi guys,
This is probably an easy questions for some of you. Are the decals on the tank cover in a clear coat or are they just slapped on?
I've been toying around with the idea of removing them for a while and I'm taking off the side cover emblems probably this weekend or the next. I don't want to remove them if I have to chip off a layer of clear coat to get to them.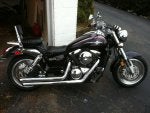 Or in your professional meanie opinions, should I leave it on? It kinda makes the purple paint stand out.
Thanks for all your input in advance!