Discussion Starter
•
#1
•
Oh hello! I didn't see you there.
Anywho, I recently fell and broke almost all the plastic parts of my 2014 Ninja 650....
I took it in to the shop to get an estimate and they quoted me 4,300 for parts and if I wanted them to do it, 5,200... I paid 5,100 for this bike brand new.... LMAO.
So... Here it goes. I been looking around and I saw this bike online that I really LOVE the style. I wanna do it to my bike. Here is a picture of that bike
.
I currently have taken off my fairings, made the cluster work as in the picture by cutting it.
My questions are as follows:
Where is his coolant reservoir? Do I need it or can I just take it off?
How big is his light? (guess) and where can I get one like that, that will fit on the bike properly?
Is his cluster bar cut? Mine has some extra metal, I can't tell from his picture but maybe he put blinkers on them?
Here are some pictures of mine: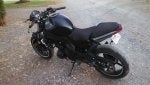 Thank you!
I really want to start riding again....
My new bars should be in soon as those ones are bent in the picture.