Discussion Starter
·
#1
·
I'm excited that I finally got to visit some dealers, see-sit-ride some bikes, and make a preliminary decision on what I'm going to. I have to travel the next two weeks, but when I get back I'm trading the Explorer for a new Connie! The only decision to be made is WHICH ONE?
2011 Black $9,900
2013 Black $11,100
2015 Black $TBD
2015 Green $TBD
Dealer A with the 2011 has already agreed to swap titles with me because we are very close on market vs. OTD on the Connie. I'm a "little" concerned about all the rubber on the bike (fuel lines, brake lines, gaskets, tires- less so because I can change my own easily) being almost five years old. Yes I can drive out of there with a 7-year warranty but I was just thinking about it.
Dealer B wants to get rid of the 2013 and might be compelled to swap titles with me if I put on my best sales hat. A grand more for a 2013 OR save that grand for an MC Cruise on the 2011? The only difference I can see between these two bikes is the wheels (2011-silver, 2013-black) and the paint (2011-gloss black, 2013-metallic black). I really don't want a black bike… I REALLY like Kawi Green. I guess for the thousands I would save on the 2011 could buy a really good paint job!
Dealer B also has two black 2015s. I would want to talk him into getting me a green one if I go for current model year… just to get the minor refinements of the 2015. However, the new $300 SiSF flash over at COG would probably be as good or better than the minor tweak to the gearing Kawi made. Sure do like that Green, though. I have a couple weeks to think about it.
I rode a 2015 Victory CC and a 2015 Indian Chieftan. Here is what I look like on the Victory (sorry, no "me on a Chieftan"; reason below):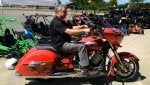 If I were going to buy the Chieftan, this is the one I would buy:
The test ride started on the Victory. It has plenty of room and is comfortable in the seat and legs. The engine is smooth and quiet. The transmission does have a whine and it was sketchy on some of the shifts (this IS a new bike, though). It caught me out once at a light and left turn; even though I was counting gears in my head, the gear indicator goes blank when you come to a stop, or when you're not on the gas… something like that. I couldn't figure that out, but it would give a "--" just when I needed to know what gear I was in. The batwing does nothing but make it wind noisy in the cockpit. I wore my full face helmet without earplugs and tried shield up and down. I don't think that can be fixed. Overall, it's a little unrefined, but riding down the road it was great. This one had the mini apes and cruise control. When you step back from it, there just doesn't seem to be a whole lot of "there" there. It's a basic machine. One thing I don't like, which the Indian also did, is all the shake in the handlebars. Let me just call the front end "rough". Steering is vague.
Halfway through the ride, I switched to the Indian. Steering is twitchy. If you hold a straight line on the highway, very solid. If you veer at all, the front end wants to fall quickly to the side, as if the front tire is a skinny disk. Strange feeling, almost like the big BMW K1600GT (some people might like it, and call it "light" steering. I don't like it.) Shifting was much better, but loud. The engine is pretty smooth, but the stock pipes are LOUD. I would not want this for a long distance bike due to the noise. The gauges and LCD are too small AND I was sitting close to the dash. Here's the main problem with ALL the Indians- forget it if you are over 6 feet tall on stock seats. They need to make an extended reach seat, but all they offer is standard and reduced reach. In the standard seat, I'm folded up and am too close to the fairing because of the gigantic bolster on the rear. It's more cramped than the Goldwing (not to say that the Wing is cramped, but its riding posture is unique in big touring bikes). Another strike is wind noise. Even with the electric windscreen all the way up, the story is not good AND you will be looking through the shield. But MAN DO THE INDIANS LOOK GOOD! I'm not a big chrome guy, and they don't turn my head easily, but when I saw that matte silver on chrome, I couldn't walk away from it. Even after the bad test ride, I was still trying to talk myself into it because it passes the EYE test with flying colors. Doesn't pass the head, heart, or butt test though.
Didn't get to ride FJR or Connie (yet), but I like both equally well in the sit test. The seating position, leg bend, arm reach are perfect for me on both; very similar but better than me on the ZR7. My head says FJR for integrated cruise control, regular fuel, less shifting, extended maintenance interval, and reported ease of maintenance. My heart says Connie despite all these thing and for appearance, engine, bigger bags, slightly better seat and I already know ALL the farkles I want and need. Plus… It's a Kawi and I'm going with the heart this time. I went with head last time and was disappointed.