Discussion Starter
·
#1
·
I attended the Harley Baton Rouge garage party Saturday and took a bunch of demo rides on the 2011 bikes, and honestly had a good time!
First up was a Sportster 1200, the forward controls felt really, really weird at first but I got used to it. Between the seat design and the forward controls I felt like I was going to fall off the back of the bike under acceleration. It also had very little ground clearance. It was very fun to scrape the exhaust on a brand new Harley with 9 miles on it though!
Switched to one of the Dyna models, dont know which one exactly. It was more comfortable and had more clearance than the Sportster but I still scraped it, the controls were more rear set which felt more natural to me. Probably my favorite of the Harley's for riding experience. It turned well and didn't feel as big as it was.
Then was a Heritage model with bags, windshield, everything. It was like riding a sofa, kinda boring. The big windshield had me sweating in a full helmet and jacket too, no windflow.
Rode a softail with floorbards and forward controls, by then I was used to the controls but it had ridiculously little clearance, scraped it 4 times in the little 10 mile loop and I wasn't even trying. Forward thrust was fun but the handling limitations were silly.
Biggest kick of the day for me? Big Dog chopper. Don't know which model,but it was ridiculous. Huge tire, silly stretch, loud pipes. It rode rough as hell and turned like a barge, but you cant help but have fun on something like that. It had some power too, lots of torque.
I didn't get to ride a V-rod, we had one more ride to go and I let my buddy ride it instead. He loved it though, especially the braking compared to the other harleys.
In summary it was a great day on two wheels, the Harley Baton Rouge team was great to hang out with and they really tolerated us young sport bikers beating on their new rides and actually encouraged us a bit!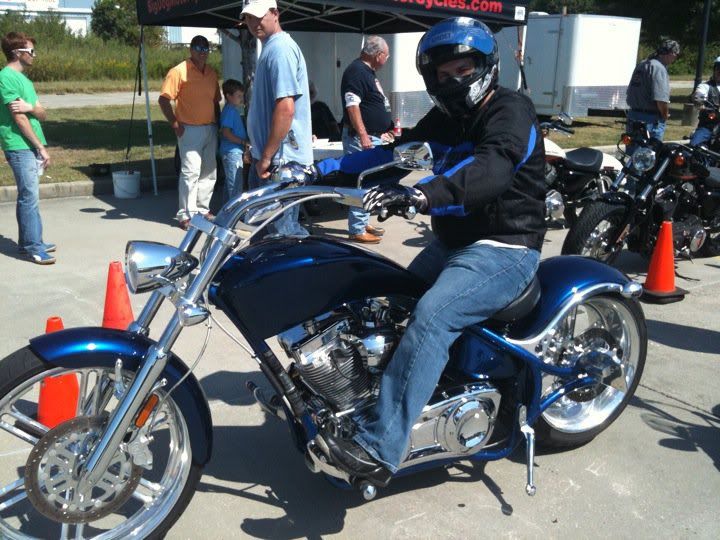 Me, probably the only person ever to ride a Big Dog with so much gear on.