Discussion Starter
·
#1
·
Hey all,
I started breaking down my zx6r forks to clean, change the oil, and change the seals. After really handling the outer tubes and not just admiring them while in the box, I'm not super happy with the condition of the gold annodized surface. As pretty as that gold color is and how much I'd like to keep it, I know the defects will bug me and now is the time to make them right. So, a couple questions for those that know a little more about this stuff.
1. If scuffed and cleaned, is annodize an acceptable surface to paint on? I understand that it should be.
2. Are there any other options besides paint and powdercoating?
3. What color do you think would look good? My bike is similar to this one.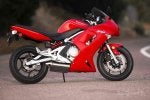 I'm thinking silver to match the frame. The lower section is probably going to end up being black but I'm also open to opinions here. Right now it's a dark brown/grey that doesn't really match anything.
View attachment 72880