Hey all, I'm new to the site so I'd like to post up what I've been doing to my "new" bike. I know a lot of people don't appreciate this style but for me this is a learning experience. I'm open to all constructive criticism/advice/questions/rants and if this generates interest I'll keep updating as I move forward.
My last bike was a 2008 FJR1300. I rode the hell out of it for a couple years but eventually I degraded in to an occasional commuter. Finally, I realized that my bike was way overkill for my needs and that it was time to downsize. I knew I wanted something other than an inline-4 and it had to be lightweight. I've also had a thing for naked bikes lately so when I saw a thread (on another forum) of a naked ninja, I figured it would be worth looking in to.
A few weeks later I scored a cosmetically thrashed but clean titled '06 650R off craigslist for $1,900... including two bros slip on and a couple other aftermarket goodies.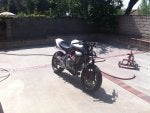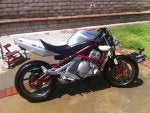 I spent $400 or so on a knockoff Vrod headlight, turn signals, bars, etc.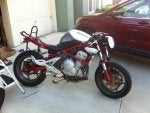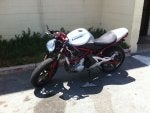 Since these were taken, I've decided the clubman bars are not for me and put on a set from Suburban Machinery. Seat/tail chop are coming in the next couple weeks and I'm tossing around some big ideas on cosmetics to be tackled later (winter probably). In the mean time I have a PC5 on order and many common performance mods are forthcoming. Thanks to the advice of Jeffo and his PC5 map, as well as the contributors of this and other forums.