Discussion Starter
·
#1
·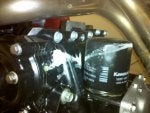 Hey guys, I purchased my bike (Kwasaki Ninja 650r 2009) two weeks ago and I have been riding it almost everyday. I have around 200 miles on it now and I decided to change my oil last night as I read on a lot of forums that people change it around 150-200 and then again at 600. I decited to be safe then sorry and go ahead with the oil change.
When I took the bottom (fins) off in order to get to the oil and oil filter I noticed kind of white acid looking leak next to the oil filter (pictures are attached). The one nut bolt is all covered in that acid looking thing and it kind of spread onto the oil filter and it dripped to the bottom of the (fins) that I took off from both sides to get to the oil filter.
Can you guys look at the pics and tell me what I am looking at here and what the problem might be. I am going to go to the deal today after work but I don't want them to start telling me a buch of bull. I want them to see that I know what I am talking about so they don't screw me.
Thanks in advance for all your help.
P.S. - I have been braking the bike in pretty easy, staying 5K or below for the first 100 miles, then 6K or below for the next 100 miles. No fast accelerating, using 1/4 throttle, taking few minute breakes every 30 minutes of riding. Max speed around 60mph.