Toying with the idea of trading my k1200s for a N1K. Mine is an 05' Fully loaded: ABS, Servo assisted brakes, heated grips, ect. It also has Givi E22 style hard paniers along with the ALU-rack and SW-motech RACKPACK II with the corresponding brackets. I also have the factory BMW tank bag. The bike looks great when fully loaded. All removable in a matter of minutes. The bike has also been fitted with a scorpion Exhaust, PCIII with canned map, and smoked windscreen. Currently under 17K on the clock and climbing. Bike has been meticulously maintained. I do still have the original grey tank plastics and front fender. (I will include pics of the bike with grey and black pieces fitted). I also have a spare E22 side case that will go with the trade as well as ALL OEM parts taken off the bike.
Now, what I'm looking for is a 2010+ N1K WITH paniers. I would really love to get my hands on a 2014 model though. I'm looking for a no fuss trade. (cash on my end IF appropriate). Let me know what you have people!
Thanks!
Dan
9734525611 - TXT is OK. If you call, please leave a message!
The bike as it sits without bags mounted:
The bike with bags mounted (I forgot to take a pic of the tank bag):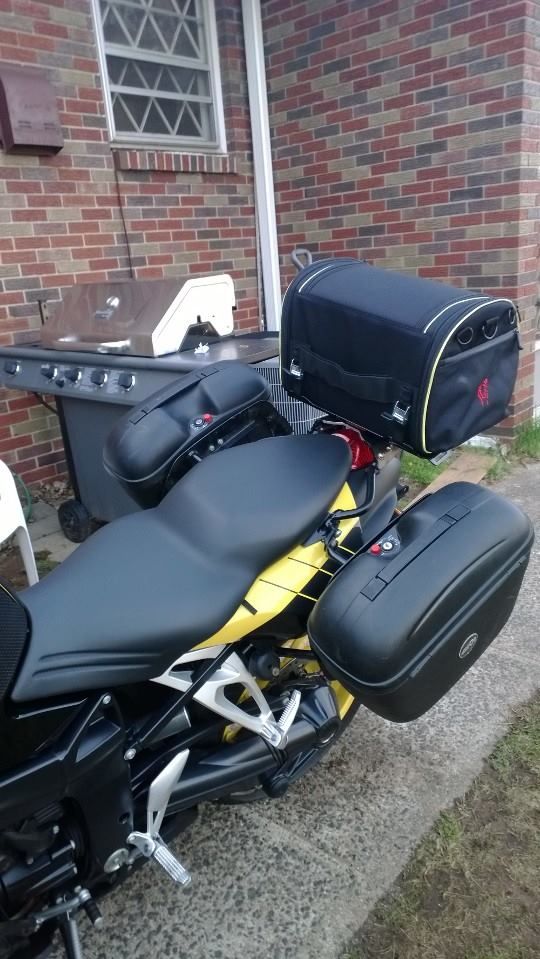 The bike with the grey tank trim, from fender, and stock exhaust: