Ok so this has got to be one of my all time favorite purchases, and I've bought a lot of sh!t over the years. Here's the original thread where I had been contemplating buying a mount...

http://www.riderforums.com/ninja-650r-accessories/73977-need-input-cellphone-mount.html
I wanted something for my iPhone that would keep it dry, safe, be within easy view, and keep it charged. I wanted to be able to use it for the GPS and music while on the move.
After some googling and searching through parts sites I found this mount on Amazon:
Amazon.com: Waterproof Motorcycle iPhone 4 Tough Case Mount Bundle with Direct to Battery Charger: Electronics
It comes with a handlebar ball mount with bolts, a waterproof iPhone case with a lanyard, and a direct to battery charging line.

Cost: 5/5...
Compare the $60 to the cost of a regular iPhone case WITHOUT the ball mount, case mount, and the iPhone charger. All that considered, I think this is an excellent price!
Install: 5/5...
Installation was cake, after opening the box it took me maybe 5 minutes to get everything installed. I did a DIY below but it's so self explanatory it's hardly needed! My bike is a 2012 Ninja 650 and I have sport bars, there were no clearance issues when mounted in the bottom left spot.
Quality: 4.5/5...
Compare the quality of the case to an Otterbox. The electronics are surprisingly well made as well, all connections are waterproof and have good quality connectors. The mount is solid too. I took off half a point only because the case could be slightly better. The power button on the module is a little difficult to press and there may be wear issues with that in the future, but it seems ok for now.

Function: 5/5...
It does exactly what I wanted and functions exactly as advertised.

Here's my only picture for now... I'll get many more tomorrow and do a quick DIY.

Installation instructions:

Tools Needed:
-Number 2 screwdriver
-Wire snips/scissors/pliers (any of those not all 3)
-Metric Allen Key size 6
-One beer, seriously this job doesn't even warrant two beers. Keep 'em cold.
1- Unscrew the bolt of your choice from your handlebars, select appropriate length replacement and screw in ball mount. Use loctite if desired. I used the bottom left bolt on my sport bars.

2- Unscrew positive lead (red) line and screw back in with red O-connector around screw. Slightly cut positive lead cover to fit around wire.



3- Found a bolt on the frame to run the black wire to as a ground. Unscrew it and mount the black line.



4- Run power button module to location of your choosing. I stuck mine under the passenger seat. When you push the button (until it clicks) the green light will come on to indicate power is running to the charger.




Proof that it works lol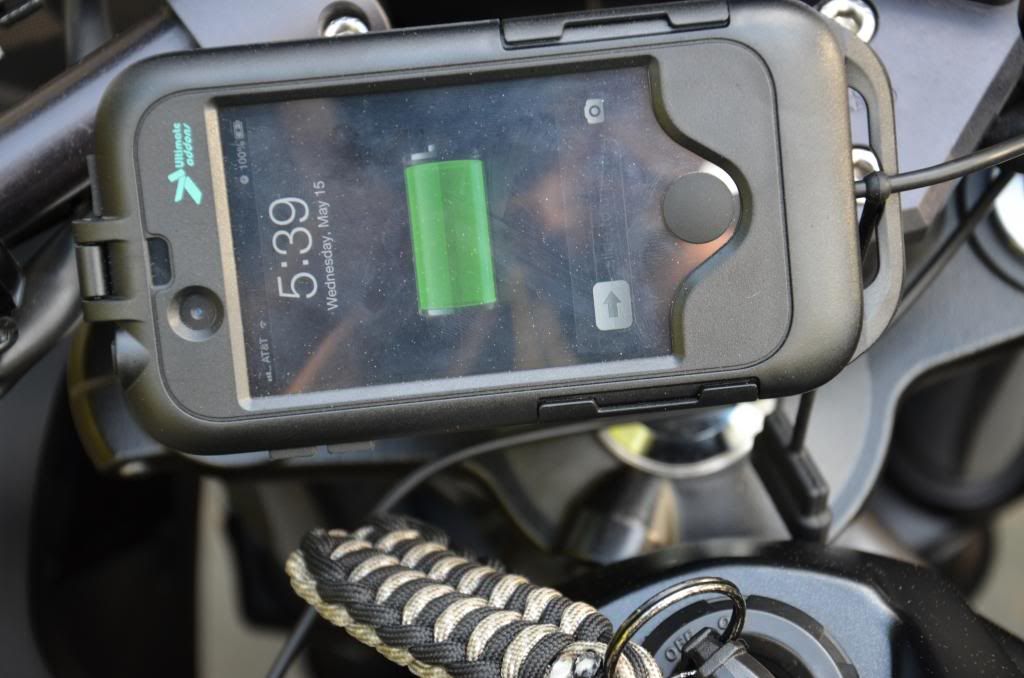 5- Run power cord to handlebars or location of your choosing




6- Secure cables with zip ties, be sure they are away from heat sources and pinch zones


You're done! Clip in your iPhone and you're good to go