Discussion Starter
•
#1
•
Yo people,
My name is Jelte, 22 years old and living in the Netherlands. Still a student, got my bachelor of (industrial) engineering 1,5 year ago, and i'm currently busy with my master degree (Msc) in organization studies. Loads of experience with mopeds, scooters and dirtbikes and started driving bikes in 2009 on a ducati monster dark 620 i.e. (restricted @ 25kw) yeaah I know.....At my fathers place a ducati virus has been developed. We imported bikes from the UK so i have driven a lot of different bikes. I did not personally own these bikes, but I enjoyed to take them for a ride.
To name a few: Monster 620, 900, s2r, s4r & s4rs (fully tuned and driven by dad + girlfriend), 748, 748R, 749(S), 848 (my dad has 2 track bikes) Hypermotard, 999 and 1098. Further more some XB12's, R6, R1, zx6r, zx10r, KTM's, Husqies, and the most special one that I do personally own: a NSU super lux 200 1957 2-stroke. Nothing special but this is the first bike I drove as an little boy (7/8 years old) so it has value in my eyes.
However, at the moment I have a z750 06 model, with a ton of mods.
- carbon Cobra exhaust
- PC3
- Ohlins shock
- tail raiser
- led lights all around
- small pinkers
- xenon
- rizoma handle bar
- unknown bar end mirrors
- rizoma food pegs
- pazzo levers
- z1000 front end
- z1000 front brakes
- steel brake lines
- carbon frame covers
- license plate mod
- seat cover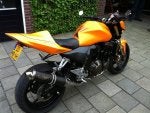 This is pretty much how I bought the bike except for the lights. I'm waiting on my parts to arrive so i can continue with maintenance + a new chain & sprockets. I ordered 15:45, so +2 in the back. I'm very interested in the different sprocket ratio. What are you guys experiences with different sprocket ratios?
I still have some questions, and that is why is registered on this forum. To start of: the air box mod.
Is it useful to do this since I have a PC3+slip on? I expected to have an K&N filter but this was not the case, i still have the original...pretty stupid if you ask me considering the PC3. Since i'm a student with not much € and $, i cannot afford to do a dyno session so i want to keep the original filter and do the air box mod.
I hope its a clear story and thanks in advance for your welcomes and answers.
Cheers
Jelte