Hello all!
In my epic journey of installing Woodcraft frame sliders (
The post of which will soon be linked here
), I had to remove the side/main/middle fender, cowling, whatever you want to call it- the main piece of plastic that sits at the side of your bike.
I couldn't see any post on how to remove this simply, and the service manual makes it sound like you have to take half the bike apart first (Removing other pieces of the body). It's actually very easy, and here's what I found worked best for me, in both text/picture and video format: (Note: This is done on the left side of the bike, but everything is the same on the right)
Also, there is another great post by kojiiro here:
Fairing Removal
He has both a video on fairing removal and re-installation, so be sure to check out his thread for more information.
VIDEO:::
TEXT/PICTURE:::
Required tools:
-4mm allen key/bit
-2 smallish screwdrivers (Semi-optional)
That's it!
Step 1:
Remove screws using your allen key/bit at the circled spots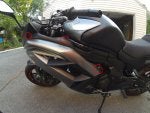 Step 2:
Remove all of the quick rivets.
To do so: Use one of your screwdrivers to push on the middle part of the rivet until it pops in a bit, then pull it out with your fingers/screwdrivers
Note:
Make sure to keep track of where each quick rivet goes! Each is different and annoying to figure out its home if you mix things up.
Right in front of the steering column:
On the inside of the fairing, towards the front of the bike: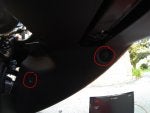 On the inside of the fairing, next to the radiator:
-----CONTINUED ON THE NEXT POST-----