Discussion Starter
·
#1
·
My friend has been researching the idea of bypass filters for years. He finally took the plunge and ordered 6 of them. One for his bike, one for his girlfriends bike, one for his truck, one for his mercedez, and 2 extras. I ended up with one of the extras and decided to install it on my bike.
What is a bypass filter?
http://www.fs2500.com/buyers_guide.html
http://gulfcoastfilters.com/1,000,000 MILES.htm
There is a lot more information out there. Go ahead and read up.
For those of you not willing to read here is the basics.
1. Particles in your oil are the reason your engine undergoes wear
2. Particles are the reason you change your oil.
3. Standard oil filters only filter into the 40 micron range while most wear is caused by particles much smaller (as small as 4 or 5 microns).
4. A bypass filter effectively filters down to 1 micron particles.
What does this all mean? Essentially you could install a bypass filter and almost eliminate engine wear. Additionally, it essentially eliminates the need to change your oil. You just need to change the bypass filter material every 10k miles. The kit ran me around $225. This means I could make up my money by not having to change the oil or standard filter as much in only 30k miles. This mod pays for itself without even factoring in the added longevity that the bike will experience from reduced wear.
While this all sounds to good to be true it is. There are many commercial vehicles fitted with these devices. An entire fleet of Pepsi trucks uses these filters and doesn't change their oil at all (just filter elements). These have mainly been used on big rigs and trucks but have been used on some motorcycles. Do some research and you will find out that these things are as good as they sound.
Here is what was needed:
A bypass filtration kit with hoses and various adapters (I got mine from wefilterit.com)
A couple of 5" worm screw clamps
Zip ties
A size q drill bit and 1/8 NPT tap as well as a few other drill bits close to the size of your fittings
A couple of 4" rubber PVC housings
Some heat resistant tubing cover
Hi-temp RTV gasket
1. Remove all the plastics from the front of the bike. This includes the lower and upper fairings as well as the front plastic with the headlight mount.
2. Locate your oil sensor. It is next to the oil filter on the right bottom side of your engine.
3. Remove the oil sensor. A small amount of oil will leak from the hole. US bikes use a 1/8 NPT sensor so we are in luck.
4. The sensor on my bike didn't seem to thread in all that far. So I expanded the threads into the bottom using a 1/8 NPT tap. I didn't go much deeper, but I did clean the threads out pretty well using the tap.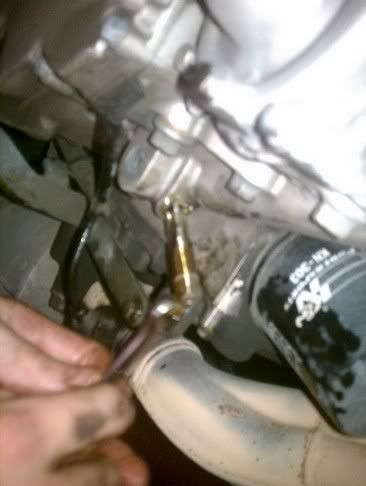 5. Use a T pipe and relocate the sensor to one end of the T. The other end of the T will be used to run the high pressure oil line to the filter. Remember this is a mock up. We are going make sure everything fits right before finally securing everything into place.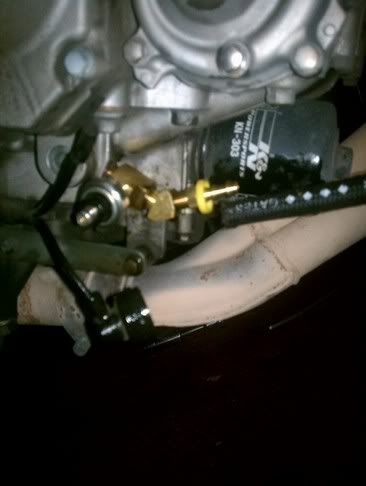 6. Prepare the filter by creating a sleeve with the 4" rubber PVC covers. Depending on the ones you got they may have to be modified. Mine had to be cut so that they would be thinner.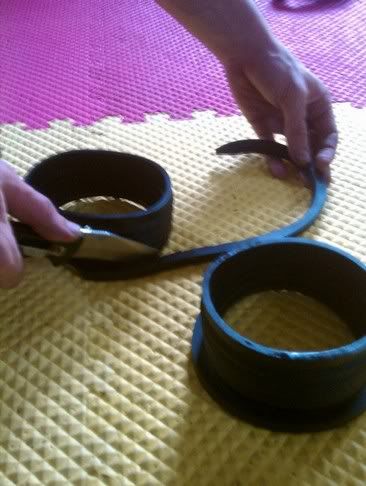 7. I also shaved down the nipple sticking out from the headlight housing so that there would be a little bit more room. After cutting it down put some RTV high temp gasket maker on it to ensure no water got into the headlight.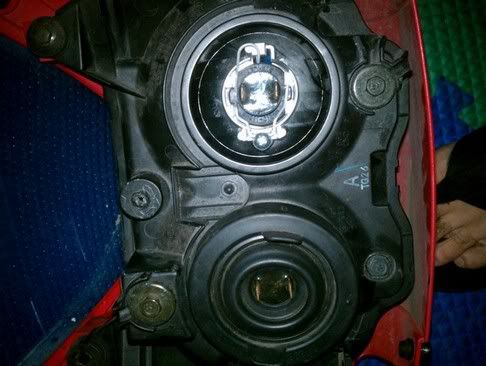 8. Next we hang the filter. It needs to be hung on the instrument cluster mounting bracket so that it is hanging off further to the right hand side. If it is not it will not fit. You secure the filter using the two 5" wormscrew clamps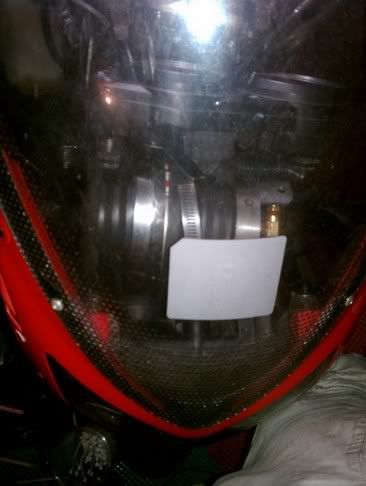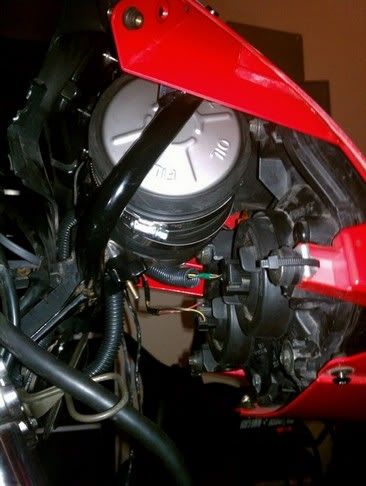 9. Mock up the front fairing with headlight and gauge cover to make sure that everything is fitting correctly.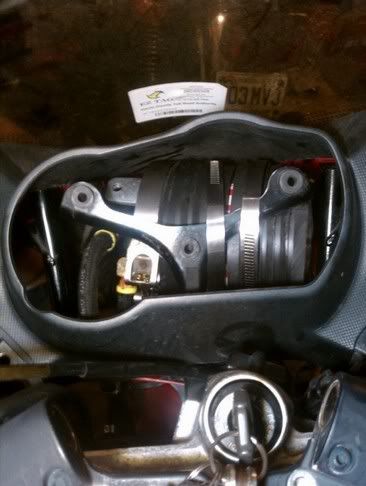 10. Now we need to tap into the fill cap so that we have somewhere for the oil to return to. Drill out the fill cap through the center so that your fitting can properly go into the cap. I used a self tapping piece so that I did not need to tap threads into the drilled hole. You will also need to shave down the grip so that the fitting can actually seat correctly.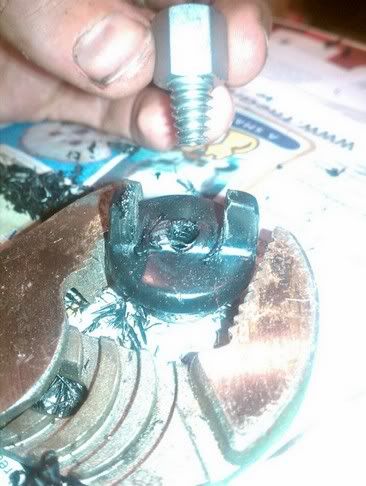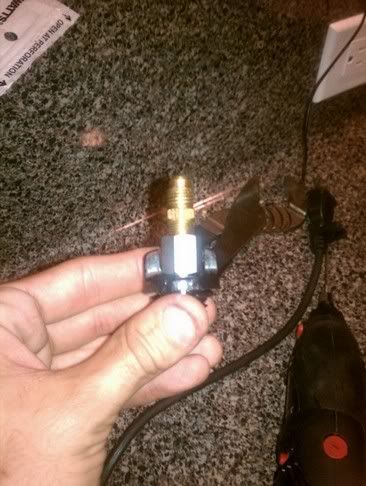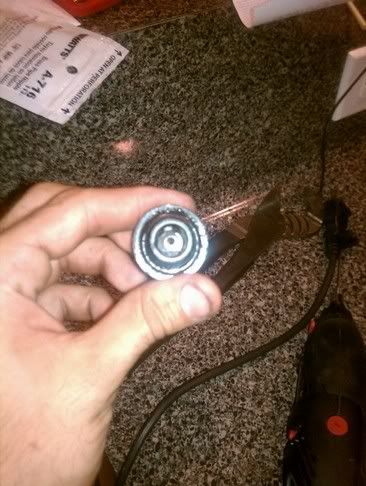 11. Now we need to route and cut the hoses. Measure out the amount of slack you will need and cut a little extra just to be sure.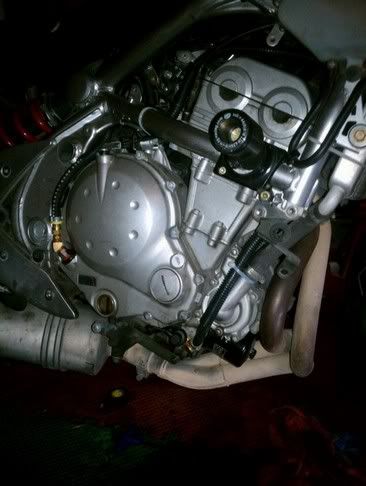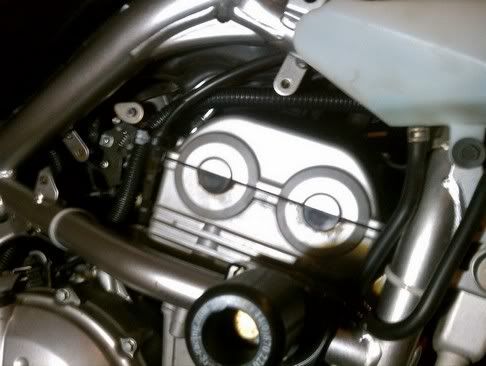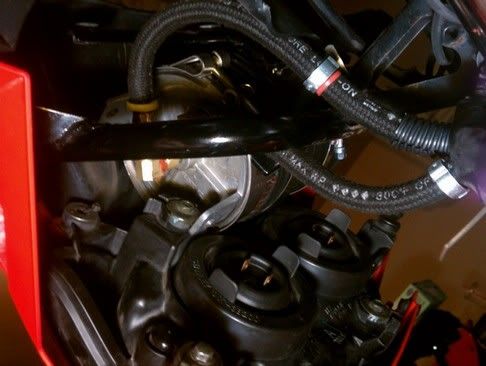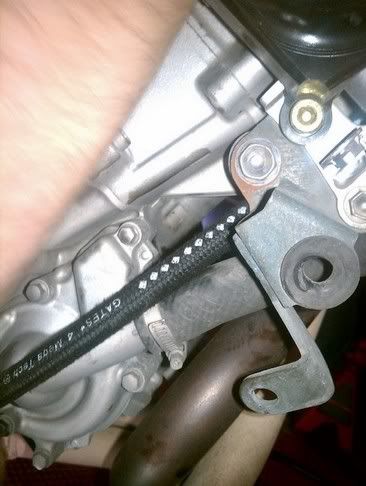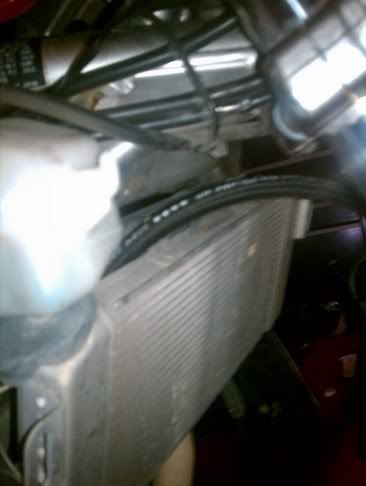 12. Attatching the hose to the fittings is a royal pain in the ***. We went ahead and softened up the ends of the hose with boiling water. With a lot of elbow grease we got the fittings in.
13. Attach all of the fittings and seal them with hi-temp RTV gasket. This will insure you don't have any oil leaks.
14. The last step is to cover any part of the hose that will rub against something with the hi-temp hose cover. I also used this to cover some of the headlight wires so that they don't get damaged.
15. Before you put everything back together. Fire up the bike and take it for a ride around the block. Make sure there are no leaks. If everything seems ok, put the fairings back on and you are done.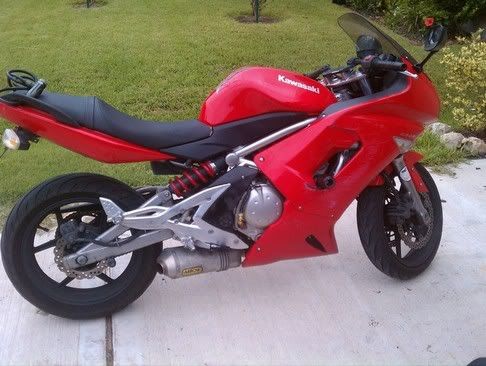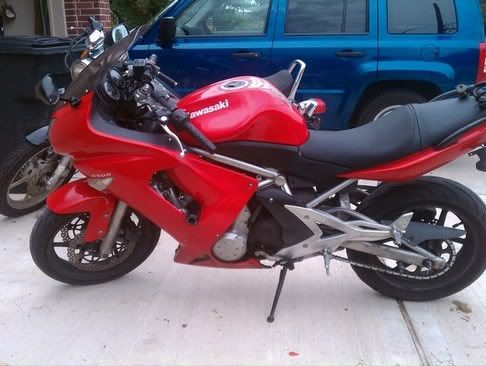 Future mods to the system will include adding oil pressure and temperature gauges. I will also be rerouting the return to the head through the valve cover. I plan on drilling two holes in the valve cover and using indirect injection diesel fuel injection nosels so that nice clean oil is sprayed all over the head. I may also eventually add in an oil cooler.
I collected some oil from the bike when I did this mod (the oil had about 2k on it with a conventional full flow filter). I will collect some more oil in a few thousand miles. Both samples will be sent off to Blackstone labs for independent analysis and review.