Discussion Starter
·
#1
·
Was refered to this shop when I was looking for a load equalizer for my LEDs and was very impressed what I found when I went to their shop. They carry a large supply of Harley, as well as universal aftermarket parts.
While there I sighted a set of Flame theme mirrors that I went back for over the week end. They support the troops by offering a discount to members of the Military, are open until 5pm on saturday wich makes it real convenient for most that work through the week. They are located north of Kansas City proper, near Worlds of Fun ammusement park at Parvin Rd, and North Brighton cross streets. Below is a write-up and pics from Cycle Connections;
Alter Ego Cycle is not a new name in Kansas City for motorcycle parts, accessories and motorclothes. They have been in business since 1973, and in 1999 they expanded to Shawnee Mission, Kansas. Brothers, Steven ("Buddha") and Duane ("Drano") Heiman, are the owners of this successful biker friendly motorcycle shop.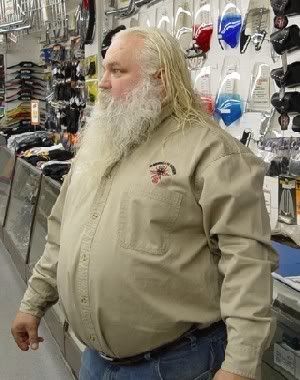 When asked how they got started in the business, Buddha said he always liked motorcycles, so he started working on friends' bikes out of his dad's shed until the city put a stop to it. He was in high school at the time, so he found a building to rent in Smithville, MO and started his own business. They built custom bikes and did routine maintenance on all types of bikes. Two years later he moved his shop to Liberty, MO until they opened the Vivion Road store where they remained for over 15 years. Bulging at the seams, they built a new store in 1992 on North Brighton where they are located today. And, they are bulging at the seams once again, 11 years later. Plans are in the works to expand to make room for more inventory. The Shawnee store is also growing quickly and they are looking for another location to build a larger store. If you happen to be in the area, Stop on by. I am sure you will not be disappointed!
:alcy: