Discussion Starter
•
#1
•
Hey everyone,
Last Sunday my 00' ZR-7F caught on fire after a fuel line leak ( :flamethro ) . Everything that wasn't steel either melted or burned up.
Here's the fire: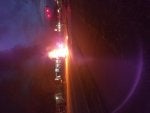 And here's what's left of the bike:
What do you guys think? Any chance to restore it to former glory?
I found all the plastics, fairings and fenders online, and everything else can easily be found OEM. I had this bike for 2 and a half years, and it means a lot to me. The only thing is the engine, it's not damaged from the fire a lot, but it definitely got flooded with water after the firemen doused it. I also have a spare engine, but the intake camshaft sprocket shattered and the pistons got bent. I guess I could use the pistons from the other engine and get the best parts from both engines. Definitely need new wheels, carbs and ignition coils. I was actually thinking of converting it to
electric
, thoughts? I've managed to keep the title as a regular vehicle and not salvage, especially since my insurance plan doesn't cover my bike (but rather damage to others).
I appreciate any and all feedback; I'm hoping to restore this bike as a project over several months.