Hi all, while changing hoses and coolant at 16,000kms, I noticed a bit of a leak around the right header outlet, any ideas where to get a new gasket/s? And will riding it in the meantime affect the engine?
I'm in Australia, and cheers...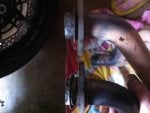 Edit: Seem to have found the problem, now what are my options?